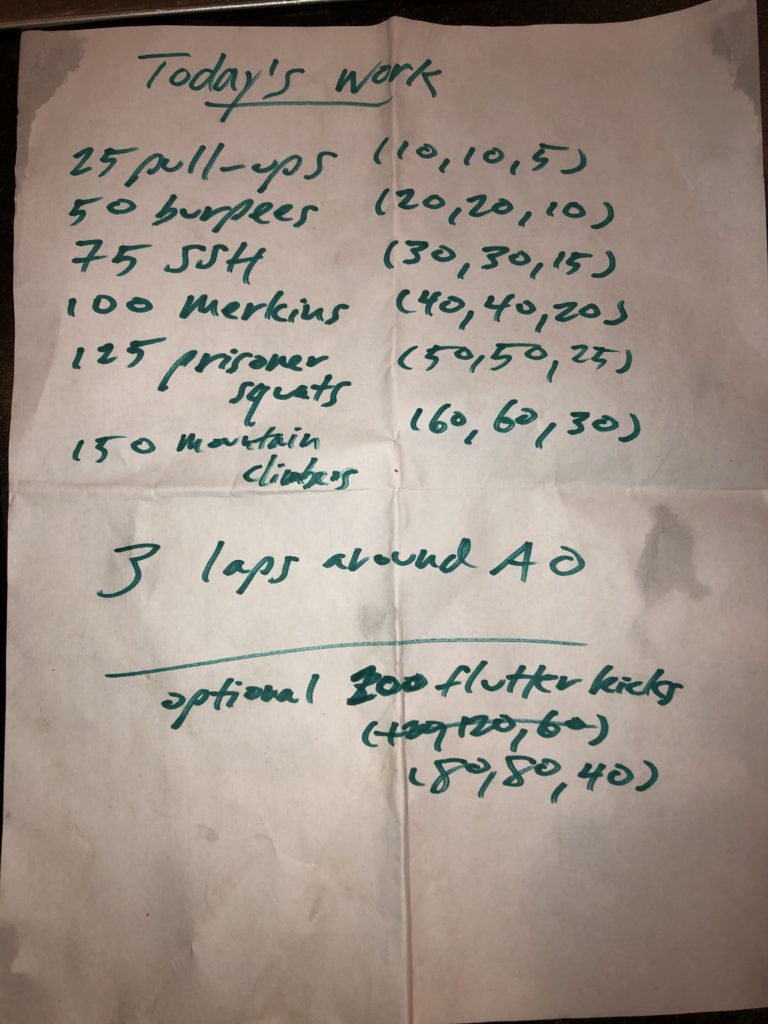 Prologue
YHC has been on the DL repeatedly over the past year, finally figuring out that a herniated disk has been the source of my repeated relapses. I had to relinquish several Q's during the past year, and have hesitated to put myself back on Q sheets until I could prove my back would withstand repeated trips to the Gloom. Well, after several months of taking without giving, I started to feel a little guilty. So in the fullest of holiday spirit, I present a workout for your early morning pleasure, scrawled on a piece of paper like a musician's set list. Satan's set list. In the 40's, and drizzling until about 20 minutes prior to go-time. I expect a small group of intrepid F3 warriors ready to accomplish what I dish out today. To the gloom!
Warm-a-rama The usual assortment of SSH (IC x 30), FAC/RAC (each IC x 10), WMH (IC x 10), slow squats (IC x 10), slow merkins (IC x 10).
The Thang I chose a series of exercises that would be too great in number to complete consecutively so thought we would complete as a group by doing 40% the first go round, 40% the second go round, and finish with 20% the final go round. See the "set list" above. Mosey around the AO counter-clockwise, stopping at the "pull up bars" (swing set), do appointed number of repetitions, then complete circle to come back to the AO for the remainder of each set. That's one lap. We did 2 laps of 10, 20, 30, 40, 50, 60 repetitions (40%, 80%), then finished with the final 20% of 5, 10, 15, 20, 25, and 30 repetitions. We had to move pretty fast to complete this, but took several 10-counts throughout. We took turns leading the exercises. We did NOT have enough time for "optional " flutter kick sets of 80, 80, 40 – that makes me want to Q this again some time and see if we can do the whole enchilada.
Mary Scarcely time for this, thankfully, but Stubbs led us in a 60 second plank with variations.
COT/Announcements Churham Christmas party Saturday 12/21. BC Christmas party 12/22. Churham fellowship ruck tomorrow night (5 miles?), finishing with beer and cigars. See channels for details.
BOM Throw yourself out there a bit. If I waited until I had an easy week at work to Q, I'd never Q; glad I signed up last month so I couldn't weasel out. Kind of like my ambitious workout today: I wrote it down and we collectively we committed to seeing it through. In much the same vein, support local charities and organizations not just with your money, but also with your time. Seek out opportunities to lead, or humbly follow someone else's lead until goals are met. Both are invaluable.
Aye!