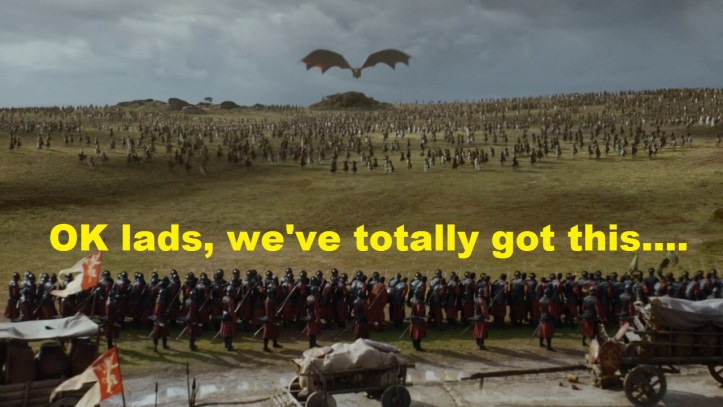 14 pax rolled into Bastille for a Game of Thrones inspired workout by Spooky. Pax were given a sword or axe to use as a coupon during the workout. Yelling war-like phrases was encouraged.
Near the AO was a group of women working out. The women probably thought we were crazy as we ran by with swords and axes.
Warm up
White-walkers (imperial walkers)
Stark Squats
Martel Merkins
Thang
Pax run between the Seven Kingdoms to perform an exercise. Each Kingdom is about 100-300 meters apart. The number of reps for each exercise is a ladder (x5, x10, x15, x20, x25) which increases after a full trip around the seven kingdoms. Kingdoms/exercises include:
Stark Squats
Lannister Lunges
Targaryen Tuck Jumps
Grey-joy Groiners
Baratheon Burpees
Martel Merkins
Tyrell Thrusters
After 20 minutes, pax regroup at the bottom of the hill to attack the Red Keep. Bear crawl 50 feet with your sword/axe then sprint ("Charge!") to the park restroom structure ("The Red Keep").
Wall sit on the "Iron Throne" – using the walls along the park restroom structure.
Mosey to the roller arena. Split into two teams. Each team has a slam ball. Two team members will alternate as the "catapult" throwing the slam ball from a seated position forward. Partner A throws the ball while partner B follows the ball and then switch. Ball is thrown to the far end of the arena. Then run back with the ball. First team back gets to call the exercise for the waiting team members on both teams.
Round 2 was the Tyrion Lannister walk (low walk holding the ball in front). Switch with your partner half way. Then run back. First team back continues to call the exercise for the waiting team members on both teams.
MARY
White-walkers (imperial walkers)
Announcements
Cauliflower is having a 2nd F at his house on Friday from 6PM until closing time.
Entire families are invited. 107 Greenview Drive, 27516
Check Slack for details.