Four met at 5:05 for a 5k EC. Can I tell you that I dig EC? There's a point at every workout that I'm not feeling it. My knee, ankle, calf, or shoulder may not feel 100% or I'm sucking wind. I get through that in EC, which makes ME that much better. I may not be as fast during the ME, but it's not a race(unless you finish last).
Last night I asked on slack if those coming today would prefer a game themed workout or "what's behind door #2." The second door was chosen even though there was a prevailing opinion that would be the harder workout. I had a similar game themed Q during which we did 70 burpees, so I can't say that door #2 would have been harder. I think everyone got a solid workout though even if they did not finish the whole thing. If everyone finished a plan like this I'd consider it a Q failure!
Warm up
78 SSH IC
ME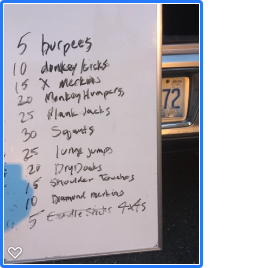 Four corners around half the parking lot. The following bullets indicate the exercise done at each corner, so your total amount would be 4x.
5 burpees
10 Donkey kicks
15 X Merkins (hands and feet wide so you look like an X)
20 monkey humpers
25 plank jacks
30 squats
25 lunge jumps
20 dry docks
15 shoulder touches
10 diamond merkins
5 4x4s (burpee with a plank jack added after the merkin)
Mary
Flutter kicks, boat canoe, plank jacks, LBCs
COT
Super Copper is tomorrow. Pax are mobilizing this weekend to help Carteret; Check slack for details. YHC is in need of a software/solutions sales job.