17 PAX showed up on another humid day for some "fun" in the gloom.  6 PAX did a 5K EC.
Warm Ups
SSH x 25
WMH x 10
IW x 20
Good mornings x 15
Slow Merkins x 10
The Thang
The Vortex
PAX ran around the parking lot while a leader yelled out a category. If that category applied to you, you ran into the middle and performed the stated exercise then return to the running group. The first one back called out the next category and exercise.  Categories included "if you've run a 1/2 marathon or full marathon", "if you have never done a ruck" and "if you think LeBron will re-sign with the Cavaliers"  First one back called out next exercise
Next up ….
BOMBS away
BOMBS consist of one lap around the church, stopping at each turn and performing the following exercises at each turn: Burpees (first corner), Overhead claps (second corner), Merkins (third corner), Big Boys (fourth quarter), and Squats at the finish line.
Round 1: 5/10/15/20/25  reps
Round 2: 10/20/30/40/50  reps (substituted WWI for Big Boys)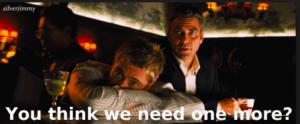 yes we do …
Partner Up
Round 1
Partner 1 – Rocky Balboas on curb
Partner 2 – Bear crawl/lunge walk out – alternate at each island.  Jog back
Round 2
Partner 1-  Derkins
Partner 2- Backwards run out and jog back
Mary 
Russian Hammer x 25
Box Cutter x20
Ring of Fire – 5 Merkins per PAX
Announcements
Misery is collecting slightly used soccer cleats for his daughters trip to Africa which will be distributed to underprivileged soccer clubs.  Slack Misery if you have anything to donate.
Prayers
Misery's friend Jonathan passed away last Friday after a long bout with cancer
Peach and his wife are taking a mission trip to Honduras.  Prayers for safe travel and return.