F3 Paradise moved to the Late Show timeslot due to freezing rain and ice that was forecasted to start at 1am.
Vice wanted to ensure he didn't lose a bet to Maraschino which would result in one of them jumping into chilly Jordan Lake in early March.  Therefore, Vice came up with the idea of moving the start time of Paradise from 5am (EC)  to 11 pm (EC).  Most pax were with us from 11pm to 12:15am.
Welcome to the Late Show with Spooky and Vice!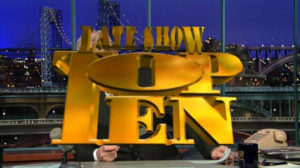 EC Warm-Up (led by Vice)
Side Shuffle Hops x 20 IC
Willie Mays Hayes x10 IC
Forward Arm Circles x10 IC and Reverse Arm Circles x10 IC
EC (led by Vice)
6 pax attended the EC in which Vice got everyone awake with his patented "Fire Hose Workout".  With creative song choices and a tabatta timer, pax went through a series of movements every 20-30 seconds – all while holding a fire hose filled with sand:
Jumping hose jacks
Anointing with the hose
Jump over the hose
V-ups with the hose
Side-to-sides with the hose
Around the world (pass the hose around your body)
Russian hammers passing the hose from right hand to left hand
Thang (led by Spooky)
YHC took over with a mosey to grab the blocks.  One per pax.  Then it was time for:
 Top Ten Exercises when Spooky has a Broken Foot
10. Blockees x 10
9. Block push (across the parking lot, then Blockees  AMRAP)
8. Colt x 45 (45 Curls with the block, then block push across the parking lot)
7. Scorpion Walk (across the parking lot, then Thrusters AMRAP)
6. Thrusters x 20 (then block drag across the parking lot)
5. Plank Walk with Block (across the parking lot, then Thrusters AMRAP)
4. Squats with Block x 20 (then plank walk with block across the parking lot)
3. Bear crawl with Block (across the parking lot, then Squats AMRAP)
2. Shoulder Press x 20 (then bear crawl with block across the parking lot)
1. Crab Walk (across the parking lot, then Shoulder Press AMRAP)
During short breaks, one pax would read off a classic Top Ten List:
Top 10 Punch Lines to Scottish Dirty Jokes
10. It took me a fortnight to get out of the thistles.
9. I didn't know you could also get wool from them!
8. It's not a bagpipe, but don't stop playing.
7. What made you think I was talking about golf?
6. I've heard of comin' through the rye – but this is ridiculous!
5. Of course she's served millions – she's a McDonald.
4. Oh, so YOU'RE Wade Boggs.
3. Care to shake hands with the Loch Ness monster?
2. Who's burning argyles?
1. She's in the distillery making Johnnie Walker Red.
Top 10 Government Euphemisms For a Recession  (or during COVID)
10. Lifestyle downscaling opportunity.
9. Our little problem.
8. The ugly, stupid cousin of robust growth.
7. Something for you '30s nostalgia buffs.
6. Cheap meat-eatin' days.
5. A treat for our bankruptcy lawyer friends.
4. A good time to switch to RC Cola.
3. Still a hell of a lot better than any country in South America, pal.
2. The National Bummer.
1. It's Krazy Dollar Days!
Top 10 Things the U.S. Armed Forces have over the Soviets
10. In hand-to-hand combat U.S. soldier has advantage of having seen professional wrestling.
9. Notches on nose of our nuclear missiles make it easier to pop open a beer.
8. U.S. Navy pilots go into battle with extra incentive of impressing Kelly McGillis.
7. Their geeky haircuts are worse than our geeky haircuts.
6. Soviet subs not wired for MTV.
5. Our Constitution guarantees the right to say "Bite me"
4. U.S. weapons impeccably constructed by the super efficient Chinese.
3. Ivan can't drink Pepsi upside down.
2. Less talk, more rock.
1. Batman's on our side.
Mary (dealer's choice)
After putting our blocks back in the pile it was time for Mary:
Flutter kicks x 20 IC
One-leg Bridges (Homer-to-Marge) x 10 IC (each leg)
WWIIs x 20 (put both hands to the left, then next rep put both hands to the right)
Dead Bug x 20
Boat – Canoe (for final 2 minutes)
Announcements
Props to everyone willing to workout at midnight!
COT
YHC wants to continue to support Vice with his challenge.  Please come out to Paradise next week in great numbers!
Aye!