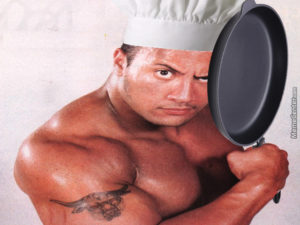 The Rock is cooking up something nice in Hillsborough.  The AO has everything you could want: a playground, a large field, a big hill, and a crew of enthusiastic PAX looking to keep the momentum moving.  This morning brought us high 30 degree temperatures, but that did not cool off any of the excitement. I woke up at 5, took the dogs outside, hopped in the car by 5:10, and was comfortably ready to ROCK and roll at 5:25 in Hillsborough.  Easy access from 85 and 40 make this a site not to miss, and with a strong market opportunity in this area (welcome FNG Mr. Sandman, an anesthesiologist), the region looks to add impressive numbers in the months to come.  Buffay picked a fantastic location and has the AO moving, already hosting a few regulars each week.  It is great to see the Northern Province in good hands!
After a brief warm up, to the field we go!
SSH Sprints
Sprint to the goal, 25 SSH in unison when all arrive, sprint back, 20 SSH, and so on until 5 SSH.  Hearts pumping, we forgot about the cold, but were then quickly reminded of it when we devolved and evolved in our next exercise.
Evolution
Gorilla hop, bear crawl, and sprint on the Q's call for 8 minutes.  Fingers frozen.  Not sure if we ended up evolving or devolving, but our fingertips sure were cold and were ready to hit the playground for a brief respite from evolution.
Playground Medley
2 guys on swerkins, 2 guys on top guns, and 3 on dips.  3 tough exercises when done right.  Rotato.  20X each, with the dips in cadence count.
Quote of this section of the workout: 20 top guns was an ambitious number.  Ouch.  One of Hillsborough's finest rolled up to open the gates and bathroom, and when she saw us working out she looked at me, mid-dip, and said, "You guys are awesome."  Well, thanks. She's the awesome one, but on a Monday morning with a full slate of pain on the schedule, I'll take the compliment!
The Rock
Elevens on The Rock: 1 merkin, backwards run to top, and 10 jump squats.  2:9, 3:8, etc.  This was a tough ending to the workout.  Fish N Chips and Buffay rocked out, so to speak.  Quads were barking!
Mary: Plank configurations and Superman holds (during which I sang "Believe it or Not" by myself.  Next time I hope at least one more person joins me.
CoT: Prayers to Lo Pair.
Moleskine:  Nickelback is setting up a hall of busts, similar to the Pro Football Hall of Fame, for those legends created in Hillsborough.  More incentive to go chase glory at Duck and Weave.