I wasn't planning on Q'ing the Rabbit this week but when Chum announced that he needed a sub because of a recent surgical procedure (one that I am going to be pursuing in the not so distant future) I thought that it would be good Karma to get out and take this one. So I put a plan together over the weekend, felt pretty good about it and got back to my daily routine of not sleeping, doing pullups and changing diapers – no big deal.
Then Monday morning came and Bump Draft's Thicket Q started with precisely how I wanted to start this Rabbit – hill intervals. And at the exact same location – Quarter Gate Trace – what are the odds??? Oh well – time for a new plan so I punted my original interval plan, decided to do some distance work instead and mix in some Merkins so we could at least make some contribution towards the FON challenge during this running workout.
11PAX were posted up at the AO so away we went:
Warmup:
SSH x 20
Slow Merkin x 5
Imperial Walker x 10
Cherry Pickers x 10
Calf Stretches OYO
The Thang:
Before leaving the AO we did 20 Merkins then set out for Pollard. Travel to Pollard at your own pace and when you arrive either hold plank or come back and pick up the six. Our route is below – first star at clubhouse for 20 Merkins, next stop was Pollard for 20 more. The cul-de-sac up near constellation was Merkin location #3. We stopped again the corner of Wildwind and BC parkway for 20 more before running that loop and wrapping at the clubhouse for a total of 100 Merkins on the morning.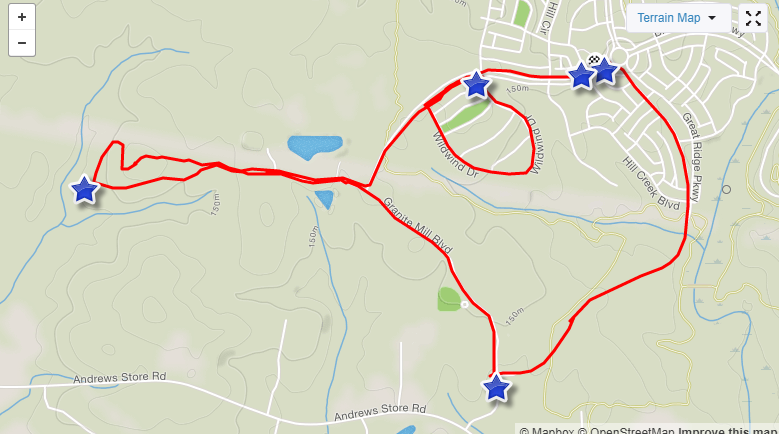 Mary:
LBC x 30
Flutter Kicks x 30
Back Hypers/Supermans x 20
Announcements:
March 31st – the Rabbit will be converging with #The Goat – Jinx will have the Q.
February 22nd – F3 habitat for humanity day. Sign up here: https://chathamhabitat.volunteerhub.com/lp/f3/
February 24th – The Thicket will be a Murph. 0515 start. Vests optional.
COT:
Lots of change in my life lately – my daughter arrived 3 weeks early, unexpected Q at the Rabbit and had to do a last minute change to my Q because of an excellently executed Thicket yesterday by Bump Draft. All of these things add up to one of the things I feel like I'm always telling my kids – the only constant in life is change. A quote which I've always loved tells us that it isn't the strongest or the smartest animal that survives in nature – it's the one that is the best able to adapt to its changing environment. And that's a good lesson for all of us – embrace the change – because like it or not it's coming. Until next time – AYE!