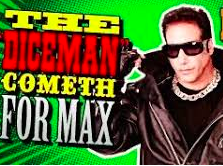 13 Pax showed up for some running and dice.  Misery had the Q.   We started off with two warm up laps around the field followed by:
Warm Up
SSH x 20
WMH x 10
Imperial Walkers x 20
Leg Swings – 30 seconds each leg
The Thang
Lucky 7 Interval training!  7 x 1000M (2.5 laps).   The type of interval depended on the roll of the dice.  The PAX took turns rolling the dice.  The first to finish knocked out Merkins and WWII (alternating) until all the PAX finished.
1 = alternate easy / medium / hard every 100 meters
2 = alternate easy / hard every 200 meters
3 = run the whole interval at a medium effort
4 = run the whole interval at a hard effort
5 = alternate medium / hard every 100 meters
6 = alternate easy / medium every 100 meters
Cool Down of 1.5 laps
Mary
American Hammer x 20
Total mileage: 5.3 miles
Announcements
#the moose is live this Thursday at Bean Traders.  Join the moose slack channel for details
Malawi children's initiative fundraiser https://www.malawichildrensinitiative.org/cocktails-for-kids-2018
Public Service Announcement: