What a morning. Hooker Fields was the the place to be. All kids of gettin' after it going on. ROTC, individual workouts, Blindside & Co, and of course the strong and loyal PAX (25 to be exact) who have made Tuesday mornings a habit for getting stronger, faster and some good doses of fellowship.  Backblasts are rare thing for our running AO's but given the numbers this morning YHC decided to memorialize it.  Thanks to Subprime for the push to do so and to Draper and Subprime for the assist with remembrance of names.
After a quick warm up our ME looked like this:
– run to bottom of Laurel Hill….turn right around and come back up to Hooker Fields (after Laurel Hill we broke into 2 groups to help with spacing and range of paces….thanks to Sweats, Beano, and Vandy for the assist here)
– 800m hard
– mosey to Gimghoul then Gimghoul loop hard, mosey back to Hooker Fields
– 800m hard
– mosey to top of 54 and run down to Greenwood Dr….after a couple of 10 counts turn around and run back up to Hooker Fields
– 800 m hard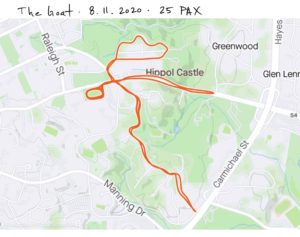 COT
–welcome Bitcoin, TreatYoSelf, and Blanks for their first visit to the Goat
–celebrating Dry Rub and his family as they welcome their newborn
–thoughts and prayers to Kevin and his family as he travels to India to see both of his parents who have been infected with covid.
–requests: the moose Q sheet is open….show our strong running community some love and sign up.  Easy but important Q!
Good seeing everyone this morning…..beyond thankful for this group. 🙏🏻