When Knope offered up YHC a Q swap for the #Honeybadger, YHC quickly agreed.  The down town site offers so many unique challenges and opportunities for a different look and experience than most of our Churham sites.  It's a downtown feel and lots of hustle and bustle at all hours – though as Happy Gilmore observed, Grit Fit was saliently silent this morning.
When YHC pulled up this morning, a very energetic man approached my vehicle and in a very positive and engaging demeanor indicated that he hadn't eaten in three days and was hungry – asking if YHC could help.  YHC quickly grabbed a protein bar, a bottle of water and some candy to share with this man and encouraged him to seek the relevant resources in Durham that could help him better than YHC would be able.  YHC was skeptical of his story, but to had empathy for him to be awake in the gloom and worrying about where his next meal would come from.  We don't know what challenges others are facing and we should always be charitable when we are able.
Warm Up
As YHC welcomed the 13 Pax that joined the workout, we started with 100 SSH in honor of Coco's recent announcement about his family relocating to Salt Lake City in August.  Coco has been such a great example of welcoming, encouraging, badassery and a personification of many of the virtues that F3 espouses.  Without exception, YHC has always come away from encounters with Coco feeling better – sometimes sorer and tired…and sick of jumping jacks – but spiritually better.  Coco's presence is a wonderful example of the Heliotropic Effect most notably promoted by Michigan academic Kim Cameron – people who are positive perform better, bring out better performance in those around them, get people to act on their ideas more, and even attract similar productive people to work with them. In other words, positive people get more done and they get others around them to help them accomplish their goals. (note: there was no reference to merkin form in the above).
We continued with the warm up –
Imperial Walkers x 20
Arm Circles x 10 (forward and backward)
Good Mornings x 10
Slow Merkins x 10
Mountain Climbers x 20
The Thang
We then grabbed a few of the coupons and headed to one of YHCs favorite Honey Badger assets – the "East Chapel Hill Street Wheel:"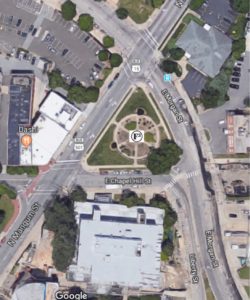 YHC was hoping for a total of 14 Pax and got his wish.  The plan was to have two Pax in each of the "wheel spokes," totaling twelve performing a different exercise, while the other other two Pax traveled around the exterior of the wheel in a different mode of travel.  The travelling Pax would then "push" (displace) one of the Pax doing the exercises, begin doing the exercise of the Pax he pushed, until he was pushed by another Pax.  The Pax that was pushed would then travel to a further spoke and thus a perpetual motion system and plenty of opportunity for fellowship and mumble chatter.  Despite YHC not clearly conveying the best process to make sure there was equitable rotations, the Pax overcome the urine stench and Roach even picked up some trash to support the 3rd F. YHC knows the time flew for him and definitely got some reps in.
Here was the rotation:
1st Travel Mode – Bear Crawl (YHC started with a ruck, but it mysteriously didn't continue in the rotation)
1st spoke – Front position: Air Squat / Back Position: Merkins
2nd spoke – Front position: Jack Webb / Back Position: Carolina Dry Docks
3rd spoke – Front position: Monkey Humpers / Back Position: Tuck Jump
4th spoke – Front position: Johnny Dramas / Back Position: Lunge
5th spoke – Front position:  Plank / Back Position: Flutter Kicks
6th spoke – Front position: Kettle Bell Swing /  Back Position:
2nd Travel Mode – Lunge Walk
3rd Travel Mode – Bunny Hop
We completed roughly 2 1/2 rotations – though YHC must confess to not going through the Monkey Humper/Tuck Jump Spoke…
Mosey back to the Flagpole for some…
Mary
Ski Abs x 20
Supermans x 20
Heels to Heaven x 20
COT:
YHC closed with words to encourage listening, positivity, reaching out, standing up, and focusing on the seeming little things that can have big effects.
Prayers to Happy's Family as the go through his Uncle Eddie's passing and especially to Happy's Father/Eddie's brother.
Prayers to YHC's Great Uncle John who is going through terminal cancer, and just unexpectedly lost his wife to a previously undiagnosed malignant tumor.
Knope referenced a 2nd F next week for lunch in Durham…couldn't remember the name, but Knope will put it on slack.
It was great to see some familiar faces and meet some new ones.  YHC could not get the #Honeybadger to gave AF…
SYITG!
Aye!
Boucher