I learned via preblast on Monday that I had the Rabbit Q the next morning. And while I enjoy Qing I totally planned to sit this one out (read: fartsack) after completing a third half marathon on Saturday as part of the Halloween Half challenge (crazy things we do in the interest of competition).
After shaking off my initial consternation, I went to the well and pulled out a workout I learned from Jinx to "Let the Segments be your guide". I last lead this one pre-pandemic (mid-January) so enough time had passed to safely resurrect it!
I arrived at the AO and 9 other PAX were eager to go!
warmup
Frankensteins x 10 IC
WMH x 10 IC
SSH x 10 IC
main event
The PAX covered 5.5ish miles and covered seven segments.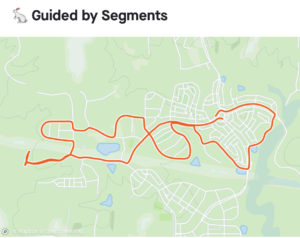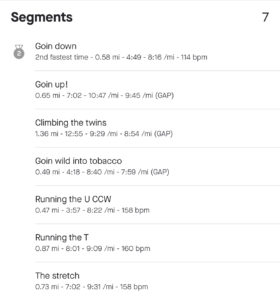 Announcements
Fingers is leading efforts to help get voters out next Tuesday. He's also coordinating efforts to have rejected ballots fixed and returned in time for the election. Fingers is a HIM!!
Cricket is planning a half marathon Saturday morning at 7am. Departing from the clubhouse.
Several headed out to Tobacco Trail to run half marathons for time.
COT
I hadn't prepared anything but Beaujolais' message at the Wall last Friday stuck with me and I shared his message with the PAX. In short, he suggested that we all look for those small nuggets of joy in the midst of this pandemic to get us through and to maintain our optimism and hope. He cited his 5 minute walk with his son holding his hand. I shared this message with my daughter who is really missing her old life and reminding her that those nuggets are there if you're paying attention. So be on the lookout! Find joy in the little things and remain hopeful.