A modified version of a workout I ran at the Rabbit. Since there were only 2 PAX at that funfest I figured why let a good beating go to waste and brought it to the men of Pleasantville. YHC is still watching hockey playoffs and can't get it out of my brain so Southern Village became our training rink.
Warmup
Calf Raises x20 (good for faceoff power)
Slow BWS x10 (good for faceoff stability)
Good Mornings x10 (good for faceoff flexibility)
Manafort was late – 5 penalty burpees
Overhead Seal Claps x50 (good for faceoff wins)
The Thang
Mosey to the bottom of Market Street. PAX always facing the same direction run backwards up the hill to first intersection, karaoke right, at end of small block continue backwards uphill run, karaoke left at top of hill, run forwards down the hill, karaoke right at intersection, continue down hill and karaoke left to wind up where we started. A perfect figure 8 for our nimble skaters. SSH until everyone arrives. 10 SSHs IC once they do. Repeato except start facing uphill.
Slide on over to halfway down one of SVs many hills. Time to work on explosive "first three step" power. ~50 yard sprint up the hill as fast as you possibly can. The question came up "how long are we going to do this for?" The answer "When the mumblechatter stops". It took 8 reps to get it to stop and we threw in a couple of extra just to get faster.
Mosey down to the bottom of the hill. Shot blocking time. Shots are blocked on your knees or on your body (kneel down or hit the ice). Partner up. P1 starts lunge walking making sure his knee hits the ground every time. P2 does 5 burpees and then runs to relieve P1 who starts in on the burpees. Cycle through five rotations and plank at the top of the hill.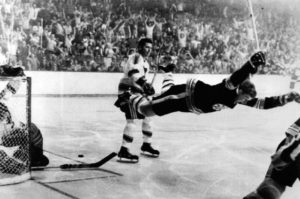 Finally Bobby Orr is known for his famous flight through the air after scoring the winning goal in the Stanley Cup finals. We recreated that with P1 putting his hands on the top of a low brick wall while P2 held his legs. First five penalty burpees for bench sitting…Then 10 Bobby Orrkins and switch. Five cycles here too.
RYAO back to the AO.
Mary
Flutters (LoPair)
Box Cutters (Spooky)
Rocky Balboa's (Nacho)
Get better Stevie Ray. Pulled a hammie midway through a sprint. If he was a horse we would have shot him on the spot.
COT
Thanks to the men who supported the effort in raising funds and awareness for the Compass Center. The workouts are free but F3 requires you give back as well and the men of Churham did their part in supporting an issue that most likely does not affect them, will never meet the people that they help, but gave freely of themselves. In the words of Draper…"Some of the best men I know are those whose first names I don't know." Aye!